Summer Showcase Event for Boys and Girls
Overview:
Benefit from top-level coaches from across Ontario and Canada
Live, eat, sleep, breathe rugby while staying and training at first-class facilities
Take advantage of training and working with like-minded athletes
Participate in a testing combine and compare your results against the rest of Canada
Guest coaching appearances from Rugby Canada coaches and players
Why is this camp so valuable?
Find out from Taylor Black (Rugby Canada NSWT, Queen's University)
Check out one of our sessions!
Queens Women's Head Coach, Dan Valley takes our girls through a Ball in Contact session. Demonstrated by current Women's National team player, Taylor Black and assisted by Canada U20 Men's scrum-half, Kevin Oh, and Canada U18 Women's player, Bridget Peros
Guest Coaching Appearances from National Team Players
Men's National Team, and current Toronto Arrows' scrum-half, Andrew Ferguson discusses the benefits of attending one of these camps.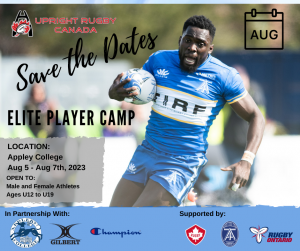 Showcase – Male/Female Athletes (b. 2011-2004)
NEW LOCATION! NEW PARTNER!  NEW OPPORTUNITY FOR TOP RUGBY PLAYERS FROM ACROSS CANADA!
*2023 ANNOUNCEMENT*
Showcase Event!
Designed specifically for those athletes currently in high school and interested in playing rugby at the Varsity level. These Elite Camps will involve coaching from top university and collegiate coaches from across Canada, as well as support from the Toronto Arrows.
Designed specifically for young, aspiring rugby players that want to hone their skills and learn from the best!  Athletes have the option to stay on location at College, benefitting from the "varsity experience" while immersing themselves in rugby at one of Canada's premier rugby and athletic institutions.
The program is open to male and female athletes between the ages of 12 and 19 (b. 20011-2004).